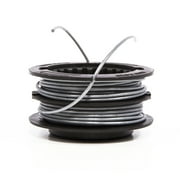 Perfect for yards up to 1/2 acre, Greenworks 40V tools are lightweight, start instantly, and require virtually no maintenance (no oil changes, no air filters, no gas cans, etc.); but still deliver gas-like power. With a collection of more than 40 lawn tools, one battery powers all the tools you need.
Customer Reviews
Go Cordless for Speed and Efficiency!
As a former and a quite satisfied user of the Greenworks' Corded Series of lawn tools, I am beyond enthusiastic since I have converted to the 40 Volt Corded Series of Greenworks' tools! The .08 Replacement Spool for my Cordless Weed Eater is just the latest example. It simplifies the process of replacing the string in the trimmer dramatically. The overall time spent on yard work has been "sliced" almost in half by the implementation of the upset of a cordless self-propelled mower, blower, and the weed eater plus easy to install .08 string replacement spool. Also, the .08 sting is more durable than the thinner .065 string required in many of the competition's weed eaters!
Quick change bump line refilled cartridges. Greenworks ever time !
The Dual line feed is pretty trouble free . Also easy to rewind yourself if necessary. With my 60v Greenworks weed trimmer advancing line is just a bump away! Great products!Grassbuster
16 inch weed eater.
I must say its the best string for the buck. NO complaints2hats
You may also be interested in