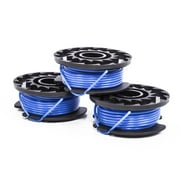 Perfect for yards up to 1/2 acre, Greenworks 40V tools are lightweight, start instantly, and require virtually no maintenance (no oil changes, no air filters, no gas cans, etc.); but still deliver gas-like power. With a collection of more than 40 lawn tools, one battery powers all the tools you need.
Each Spool Contains Approx. 20-ft of 0.065-inch Diameter Trimmer Line
Single Line Auto Feed
Easy to Remove & Replace
Compatible with the following Greenworks models: 21302, 21332, 2111702, 21342, 2100302, 1301102AZ, 2102902AZ, 2101902, 2103202, 21262, 21312
Customer Reviews
Great product
I was a little skeptical about a single line trimmer but this string and head work extremely well together. Easy to load and attach to trimmer. Couldn't ask for a better quality product.Mpav33
Trimmer line
This product will fit specific greenworks trimmer models. Be sure to order the correct line for your trimmer!
Trimmer string
I like the serrated edges that don't tangle up the spun string.
You may also be interested in