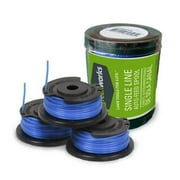 Greenworks 29252. Features: Single line feed. Easy to remove and replace. Each spool contains approximately 20 ft. of 0.065 in. diameter trimmer line. Fits Greenworks 21062, 21602, 21222 and 21132 string trimmers. Note: Does not fit any other brand string trimmers.
Customer Reviews
Great product, great price!
This replacement cartridge is simple to install and the trimmer is very effective. We love all of our GreenWorks tools. We appreciate that this replacement trimmer line can be utilized across most, if not all of the GreenWorks trimmers. Additionally, the line does not degrade as rapidly as other trimmers we have used in the past. Great product!NateInPhoenix
24v 2ah usb battery
The batteries are good quality and light weight so easier to handle. The company is reputable which is very important. O recommend it.
String trimmer replacement line
Trimmer line works as expected on my 24V trimmer, no issues
You may also be interested in